How to renovate a headlight lens?
4 min read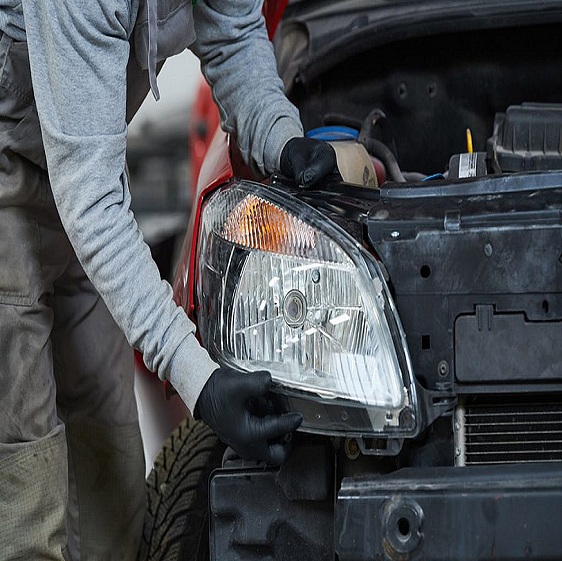 Car headlights are elements that ensure better visibility of the road when driving at night. But over time, they tend to tarnish or yellow. This is why they need to be maintained regularly, sometimes restored, and the slightest problem must be taken seriously and resolved as soon as possible. So you're wondering how to refurbish them and restore their shine? Discover our tips for renovating your headlight lenses.
When do you have to carry out a headlight restoration?
Car headlights need a makeover if they show signs of aging. Here they are :
They illuminate less than before;
They have a lower light intensity;
The glass of your headlights becomes yellow, matt, even opaque, or totally opaque;
The headlight optics are tarnished.
The causes of this wear are numerous: snow, rain, sand, dust, mud, sunlight, etc. The material of the headlight also makes the difference: that of old cars is often made of glass, that of the most modern is made of polycarbonate, a plastic material. The latter deteriorates quickly under the effect of ultraviolet rays and bad weather. Due to dust or during washing, micro-scratches form on the surface of plastic headlights.
Why is headlight renovation essential?
The high beams are important for your safety and that of the passengers in the passenger compartment. Indeed, they allow you to have better visibility in the dark or in the fog or in bad weather conditions. Driving with faulty headlights is therefore a real danger and can lead to a fixed fine of £68.
In addition, opaque headlights can be a cause of refusal at the technical control. In the event that they have become too opaque, you will be obliged to go to a counter-visit.
If your glass is damaged, quickly contact a windshield repair specialist to also avoid a return visit.
Renovation of headlight optics: how to do it?
Wondering how to effectively clean your headlights? Here are four tricks you can use to get rid of their yellowing and all the dirt.
Cleaning the headlight with mosquito repellent
Amazing and inexpensive, mosquito repellent spray can revive the original look of car headlights. You can use this technique for maintenance and light renovation of your high beams. All you have to do is spray the product on the headlight and then rub it with a clean cloth. Allow to dry for best results.
Cleaning the headlight with toothpaste
Although it may seem very surprising, toothpaste can also be used on the headlight unit of your car . Very well known by amateurs, this method is very effective on dull headlights. However, it is not to be preferred if the latter are very damaged and really opaque. With its abrasive particles, the toothpaste erases scratches and scratches on the plastic of the headlight. To do this, start the operation by cleaning and degreasing your lights. Then, using a sponge, apply the toothpaste then operate in circular motions with a microfiber cloth. Finally, rinse your headlights and dry them.
Cleaning the headlight using a homemade optical restorer
Another tip for polishing your car lights: use a homemade cleaning product. This washing recipe consists of mixing half a glass of baking soda, half a glass of liquid soap and a glass of white vinegar. Thanks to this mixture, you can clean the opacity layer and remove all the residue that covers your headlights. With a moistened sponge, rub the surface of your optical blocks as much as possible. Then just rinse with clear water and observe the result.
Cleaning the headlight with specialized kits
Available in specialized stores, online or in supermarkets, optical restorer kits are designed only to renew car headlights. In general, they consist of complete cleaning and polishing products, applicator pads, sheets of sandpaper that allow you to sand the headlight and apply the products. Before sanding, protect the contours of your headlights so that the surrounding elements are not damaged (hood, wing, bumper). Then, all that remains is to polish the headlight and wipe it with a microfiber cloth to complete the cleaning.
Renovating your headlights: why turn to a professional?
Restoring headlight lenses requires experience, know-how and suitable tools (sander, polisher), even if renovation kits are available in supermarkets. This delicate job, simple in appearance, is actually more complicated than it seems, due to the fragility of the rubber and the paintwork of the vehicle body. Improper handling could permanently damage these elements. In addition, these solutions are not always practical, especially if your headlights are too damaged.
If you want to give shine and a second life to your indicator or your headlight unit, we advise you to maintain them regularly. No headache, the ideal is to go to a car garage nearest to you. Indeed, only a professional mechanic can guarantee you an impeccable long-lasting result.